BS Degree – Code #1761
Reza Yadollahi, PhD, Program Coordinator
Email address: yadollahim@alfredstate.edu
Do you dream of a leadership role in the construction industry? Then this program is for you. Our expert faculty have designed a series of courses that will familiarize you with all aspects of construction management. Technical course work is combined with specific construction management courses as well as several business courses, giving you a broad-based education.
Advantages
Alfred State students compete annually in the Associated Schools of Construction Northeast Region student competition.
Students can compete for scholarships given by the Associated General Contractors of New York.
Seniors in the BS program are required to take the Associate Constructor Level I exam prior to graduation.
This program is accredited by the American Council for Construction Education (ACCE), [1717 North Loop Road 1604 East, Suite 320, San Antonio, TX 78232].
This program is accredited by the Applied and Natural Science Accreditation Commission of ABET, www.abet.org
Students typically gain work experience through summer employment with construction companies.
Program Student Learning Outcomes (ACCE Accreditation)
Create written communications appropriate to the construction discipline.
Create oral presentations appropriate to the construction discipline.
Create a construction project safety plan.
Create construction project cost estimates.
Create construction project schedules.
Analyze professional decisions based on ethical principles.
Analyze construction documents for planning and management of construction processes.
Analyze methods, materials, and equipment used to construct projects.
Apply construction management skills as a member of a multi-disciplinary team.
Apply electronic-based technology to manage the construction process.
Apply basic surveying techniques for construction layout and control.
Understand different methods of project delivery and the roles and responsibility of all constituencies involved in the design and construction process.
Understand construction risk management.
Understand construction accounting and cost control.
Understand construction quality assurance and control.
Understand construction project control processes.
Understand the legal implications of contract, common, and regulatory law to manage a construction project.
Understand the basic principles of sustainable construction.
Understand the basic principles of structural behavior.
Understand the basic principles of mechanical, electrical, and piping systems.
Learning outcome scores (pdf)
Program Educational Objectives
Program educational objectives were established with the assistance of the Industrial Advisory Committee and are reviewed periodically. The construction management program produces graduates who:
Understand technical components and techniques of construction.
Write, read, and orally present information standard to the construction industry.
Understand methods and tools to manage both a construction project and construction company.
Understand safety and risk management.
Understand industry ethics and statutory requirements.
Occupational Opportunities
Project manager
Project engineer
Estimator
Project scheduler
Planner
Construction supervisor
Plant manager
Construction equipment sales
Materials sales
Facilities management
Employment Statistics
Employment and continuing education rate of 100 percent – 100 percent are employed.
Enrollment And Graduation Data
| | |
| --- | --- |
| | Enrollment (based on fall census) |
| 2022 | 62 |
| 2021 | 69 |
| 2020 | 81 |
| | Degrees Awarded |
| 2019-2020 | 21 |
| 2020-2021 | 28 |
| 2021-2022 | 15 |
Related Programs
Architectural Technology
Building Trades: Building Construction
Construction Engineering Technology
Construction Supervision
Entrance Requirements/recommendations
Required: Algebra, Geometry, Algebra 2
Recommended: Physics
Technical Standards
Students in the construction management program must meet the following requirements:
Students must have the ability to use industry standard software and computers.
Students must have the ability to traverse varying types of construction sites.
Required Equipment
A tier 2 laptop computer is required for students entering the construction management program. Laptop specifications are available at www.alfredstate.edu/required-laptops.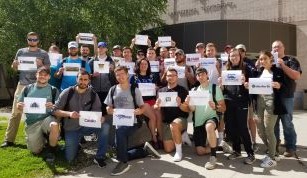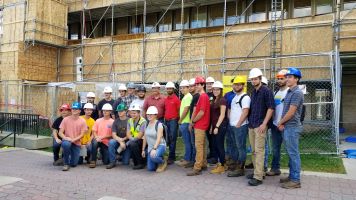 Office of Accessibility Services
Students who believe they need a reasonable accommodation to properly participate in this program may contact Melanie Ryan in the Office of Accessibility Services. This office may be contacted by email at oas@alfredstate.edu or by phone at 607-587-4506. Please keep in mind that some accommodations may take time to implement, so students seeking accommodations are encouraged to contact OAS as early as possible.
Construction Management - BS Degree
Students receiving credit for math classes shown in the typical eight-semester program may require additional LAS electives to compete degree requirements.
Must meet seven of the 10 General Education areas.
2.0 cumulative grade point average, and department requirement of 2.0 grade point average in major courses (CIVL).