Print PDF
Dual Degree Program - Code #2373
Jess Lippa, Department Chair and Program Coordinator
Email address: lippaj@alfredstate.edu
The demand for nurses with bachelor's degrees has never been greater. According to the Health and Medicine Division's (HMD) Future of Nursing: Leading Change, at a minimum, 80 percent of nurses should have at least a bachelor's degree by 2020. In order to meet the recommended need, Alfred State now offers a dual degree.
The new dual degree nursing program is a model to meet the high demand for bachelor's degrees in nursing, while allowing the student to earn both an associate and baccalaureate degree over four years. The graduates of the associate program are eligible to sit for the NCLEX-RN exam at the end of the third year. The nursing program will prepare you to become a registered nurse - one of the fastest-growing professions in the country. Courses are sequential and progress from simple to more complex situations, with specialized content in obstetrics, psychiatrics, and pediatrics integrated into the program. Clinical experience, an essential part of each nursing course, further enables you to gain technical competence to apply theoretical knowledge with practice.
Facilities
Facilities used for clinical experiences may include: Cuba Memorial Hospital, Elderwood, Guthrie Healthcare Hospital, Unity Hospital, FF Thompson Hospital, Highland Park Rehabilitation & Nursing Center, Jones Memorial Hospital, Noyes Memorial Hospital, Olean General Hospital, St. James Hospital, Wyoming County Community Hospital, Hornell Gardens, as well as other area facilities and community sites.
Students may be placed in day, evening, and night clinical placement, weekend and weekday rotations, and will be responsible for their own transportation.
The upper-division completion program will enhance your knowledge and skills foundation to function more autonomously and interdependently in diverse, complex, and dynamic health care environments. Moreover, the program will enhance your potential to expand your responsibilities in practice to become a leader, coordinator, and manager of care. Lastly, the program will serve as a solid academic foundation for advanced study in nursing at the graduate level. Some of the BSN core courses will begin to be offered in both an on-campus setting (for residential students), while online opportunities will be available for students not living on or near campus, providing flexibility and learning style choices for the adult student and working professional.
Clinical components will be required in the following courses:
NURS 6003 - Nursing Leadership and Management
NURS 6413 - Health Assessment and Promotion Across the Lifespan
NURS 7004 - Population Focused Care in the Community
It is strongly recommended that clinical site affiliations are submitted at least two months prior to taking the course to ensure that a clinical site agreement is in place.
As a graduate of this program, you will be prepared to assume a leadership role in the health care delivery system using gained experience, research, and technology for evidence-based decision making. You will be equipped to deliver, lead, and coordinate care for a variety of individuals from diverse backgrounds to improve client outcomes.
Advantages
Both the AAS and BS in Nursing programs are registered by NYS Education Department. Graduates of the AAS degree are eligible to apply for licensure as a registered nurse (NCLEX-RN) in any state.
Articulation agreements are in progress between multiple regional community colleges and Alfred State for the BSN program.
Program Student Learning Outcomes - AAS
Professional Opportunities
Hospitals
Clinics
Long-term care facilities
Physician offices
Industry
Ambulatory settings
Visiting nurses' agencies
Schools
Home health care
Health insurance providers
Leadership, management, research, education, and practice opportunities exist in a variety of health care settings and institutions throughout New York State and the US.
Student Achievement Data
The 2019 NCLEX-RN first-time pass rate was 81.5 percent.
The 2020 NCLEX-RN first-time pass rate was 81.8 percent.
The 2020 NCLEX-RN pass rate for New York State was 83 percent.
The dual degree program was officially registered with the NYS Department of Education as of the fall 2016 semester.
Employment Statistics
Employment and continuing education rate of 100 percent – 100 percent are employed.
Related Programs
Biological Science
Diagnostic Medical Sonography
Health Information Technology
Health Sciences
Human Services
Liberal Arts and Sciences: Humanities
Radiologic Technology
Entrance Requirements
Required: Algebra, Biology, Chemistry
Required: It is essential that students are able to fully participate, with or without a reasonable accommodation, in clinical caring for clients as assigned.
Nursing students should be able to:
Ambulate in a sufficient manner in order to appropriately and safely perform patient care.
Lift at least 35 pounds.
Function in a safe manner, not placing clients in jeopardy.
Maintain confidentiality in regard to professional practice.
Appropriately use standard medical equipment.
Interpret data from electronic devices in a health care setting for the purpose of client care.
Maintain professional composure at all times.
Communicate effectively orally and in writing.
Students who believe they need a reasonable accommodation to participate in clinical care may contact Melanie Ryan in the Office of Accessibility Services. This office may be contacted by email at DisabilityServices@alfredstate.edu or by phone at 607-587-4506. Please keep in mind that some accommodations may take time to implement, so students seeking accommodations are encouraged to contact OAS as early as possible.
A computer with internet access, webcam, and Microsoft Office is required for the nursing program. Written work must be submitted in Word format. Students are permitted to repeat an upper-level (5000 or higher) nursing core course one time only. If a student is unsuccessful in the same nursing course twice, they will be unable to progress in the nursing program.
Bachelor-level students are expected to write at a BS level proficiency, using APA format. Writing proficiency, grammar, spelling, and APA formatting are all essential elements of every nursing course. Failure to write at a BS level may result in failure of nursing course work.
Licensure
Upon completion of the AAS degree portion of the dual degree program, graduates are eligible to apply for licensure as a registered professional nurse (NCLEX-RN) in any state. Completion of the AAS nursing program does not assure licensure as a registered professional nurse. Graduates of this portion of the dual degree nursing program meet the education requirements for admittance to the RN licensure exam; however, there is a requirement that the applicant be of "good moral character" and a fee must be paid for the test and license. On the application for New York State licensure, the applicant is required to truthfully answer the following questions:
Have you ever been found guilty after trial, or pleaded guilty, no contest, or nolo contendere to a crime (felony or misdemeanor) in any court?
Are criminal charges pending against you in any court?
Has any licensing or disciplinary authority refused to issue you a license or ever revoked, annulled, canceled, accepted surrender of, suspended, placed on probation, refused to renew a professional license or certificate held by you now or previously, or ever fined, censured, reprimanded, or otherwise disciplined you?
Are charges pending against you in any jurisdiction for any sort of professional misconduct?
Has any hospital or licensed facility restricted or terminated your professional training, employment of privileges, or have you ever voluntarily or involuntarily resigned or withdrawn from such association to avoid imposition of such measures?
If the answer to any of the questions is yes, the applicant must offer full explanation and establish their good moral character with the State Education Department, prior to earning a license.
Be advised that a prior felony conviction may impede a student's ability to participate in a required professional practice experience.
Accreditation/certification
Alfred State College is accredited by the Middle States Commission on Higher Education (MSCHE), 3624 Market St., Philadelphia, PA 19104; 215-662-5606, http://www.msche.org. The MSCHE is an institutional accrediting agency recognized by the U.S. Secretary of Education and the Council for Higher Education Accreditation (CHEA).
The AAS nursing program at Alfred State College located in Alfred, NY is accredited by the Accreditation Commission for Education in Nursing (ACEN), 3343 Peachtree Road, Suite 850, Atlanta, GA 30326 404-975-5000, www.acenursing.org
The baccalaureate degree program in nursing at The State University of New York College of Technology at Alfred is accredited by the Commission on Collegiate Nursing Education, 655 K Street NW, Suite 750, Washington, DC 20001, 202-887-6791.
Both the AAS and BS in Nursing programs are registered by the NYS Education Department. Graduates of the AAS degree are eligible to apply for licensure as a registered professional nurse (RN-NCLEX) in any state.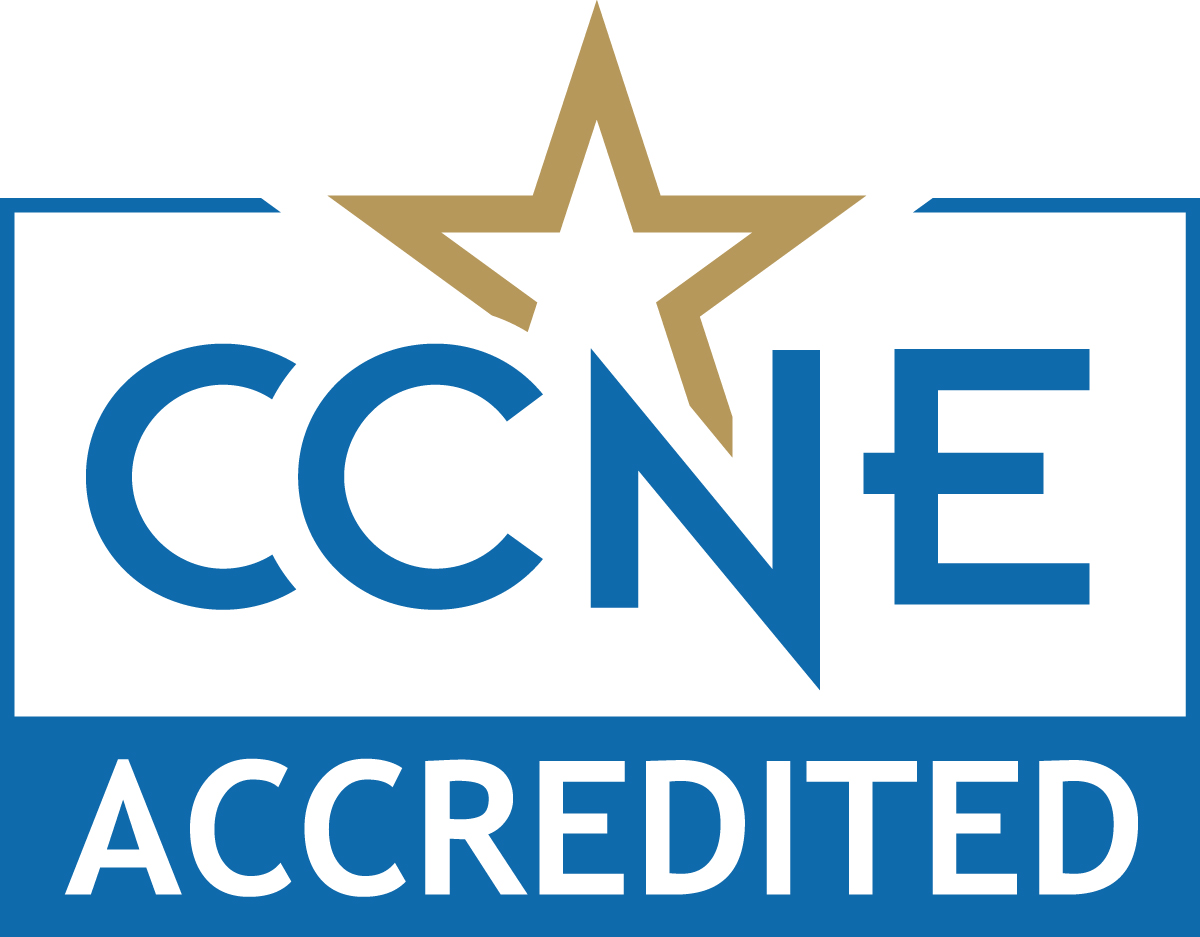 Dual Degree Program Nursing – AAS to BS in Nursing Degree
TYPICAL FOUR-YEAR PROGRAM
First
Second
Third
Fourth
Fifth
Sixth
Student is eligible to apply for licensure as a registered professional nurse (RN-NCLEX) in any state.
Seventh
| | | | |
| --- | --- | --- | --- |
| NURS | 5003 | Ethical Issues in Health Care | 3 |
| NURS | 6003 | Nursing Leadership/Management | 3 |
| NURS | 7003 | Nursing Research | 3 |
| XXXX | xxx3 | Liberal Arts Elective (Upper Level) | 3 |
| XXXX | xxx3 | Liberal Arts Elective (Upper Level) | 3 |
| | | | 15 |
Eighth
Evidence of RN Licensure required prior to progression into NURS 7004 Population Focused Care.
| | | | |
| --- | --- | --- | --- |
| NURS | 7004 | Population Focused Care in Com | 4 |
| NURS | 8013 | Professional Capstone | 3 |
| NURS | xxx3 | Nursing Elective (Upper Level) | 3 |
| XXXX | xxx3 | Liberal Arts Elective (Upper Level) | 3 |
| XXXX | xxx3 | Liberal Arts Elective (Upper Level) | 3 |
| | | | 16 |
GRADUATION REQUIREMENTS
AAS
36 credits of nursing (nursing I, II, III, IV)
12 credits of natural science (anatomy & physiology I and II, microbiology)
Nine credits of social science (general psychology, general sociology, human development)
Six credits of English/humanities (freshman composition, literature)
BS - Total dual degree credits
64 credits of nursing
60 gen ed/liberal arts and sciences credits