Erica Matteson, Program Coordinator
Email address: matteses@alfredstate.edu
Health information technology (HIT) professionals play a key role in the planning, implementation, and management of the electronic health record (EHR), and with today's growing reliance on computer-based records, this profession has become one of the fastest growing in the nation. HIT professionals are educated in the leadership and management of health information, and are considered the custodians of health information. In this career, your primary function will be to make sure all the medical information collected about an individual is complete, accurate, and protected, while, at the same time, readily available for health care providers when it is needed.
Alfred State offers an online Associate of Applied Science degree in health information technology, which combines a profession in health care with information technology. As an HIT professional, you will be responsible for maintaining components of health information systems consistent with medical, legal, accreditation, and regulatory requirements of the health care delivery system. You will also maintain, collect, and analyze data crucial to the delivery of quality patient care.
Advantages
Graduates are eligible to take the national certification examination to become a registered health information technician (RHIT). Since 1968, when the program was created, Alfred State HIT graduates have traditionally achieved a passing rate above the national average.
Direct Entry Into Baccalaureate Degree Program
Alfred State health information technology graduates may enter directly into either the interdisciplinary studies BTech or the technology management BBA degree program.
Professional Practice Experiences
Students complete non-paid professional practice experiences (PPEs) in the Health Information Department of an acute care facility (160 hours) in their study. PPE arrangements are made in consultation with each student so that convenient locations are selected. Students are not a substitute for paid staff during PPEs, which means they are expected to receive appropriate supervision and mentoring during completion of all tasks. The professional practical experience (PPE) includes the completion of on-site hours in the Health Information Management (HIM) Department of a hospital (or other health care facility) with adequate facilities to provide varied work opportunities in HIM.
The Joint Commission Hospital Accreditation Standards Manual requires hospitals to implement "a process to ensure that a person's qualifications are consistent with his/her job responsibilities." This standard "applies to staff, students, and volunteers," and it further states the hospital is responsible for verifying "the following according to law, regulation, or hospital policy: information on criminal background." As such, Alfred State students who complete PPEs in the HIT program may be required to undergo a criminal background check prior to placement at the facility. In addition, the facility may require students to undergo a physical examination (on-site at the facility or by the student's primary care provider) prior to beginning the professional practice experience. The physical examination includes drug screening, a TB test, and/or DTB, hepatitis B, and/or MMRV immunization or status. Students may be required to incur costs associated with the criminal background check and/or physical examination.
Students may be required to attend an on-site orientation at the professional practice facility, which could be several days in length beyond the 160 PPE hours. Students must make appropriate arrangements with their current employer to complete the 160 hours at the PPE host site.
Articulation Agreements
One-plus-one transfer agreements exist between Alfred State and Jamestown and American Somoa Community Colleges. Students complete their first year of study at the local community college and transfer to Alfred State for their second year. Transfer is guaranteed if a student successfully completes the prescribed first-year schedule of courses with a 2.0 cumulative index.
Continuing Education Opportunities
Although not limited to these schools, common transfer institutions for HIT bachelor's degree programs include SUNY Polytechnic, Stephens College, St. Scholastica, Regis University, University of Cincinnati, and Saint Joseph's College of Maine.
Occupational Opportunities
Hospitals and other health care facilities
Clinics and physicians' offices
Insurance companies
State and federal agencies
Law/computer firms
Software companies
Consulting
Employment Statistics
Employment and continuing education rate of 91 percent – 73 percent are employed; 18 percent continued their education.
Survey Details

2012

2013

2014

2015
Receiving Degrees
19
33
31
23
Responding to Survey
13 (68%)
26 (79%)
23 (74%)
9 (39%)
Employed
12 (92%)
24 (92%)
17 (74%)
7 (78%)
Employed in Field
12 (92%)
20 (83%)
17 (74%)
7 (100%)
Transferred
1 (8%)
1 (4%)
3 (13%)
1 (11%)
Unemployed & Seeking Employment
--
1 (4%)
3 (13%)
-
Unemployed & Not Seeking Employment
--
--
--
-
Source: Website (Career Development Office) Employment and Continuing Education Report 2014
Accreditation/Certification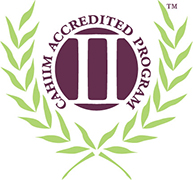 The health information technology program is accredited by the Commission on Accreditation for Health Informatics and Information Management Education (CAHIIM) [233 N. Michigan Ave., 21st Floor, Chicago, IL 60601-5800, 312-233-1100, www.cahiim.org/]. CAHIIM is an independent accrediting organization which enforces quality Accreditation Standards for Health Informatics and Health Information Management (HIM) educational programs through accreditation. CAHIIM accredits associate and baccalaureate degree programs in health information management and master's degree programs in the health informatics and health information management professions. CAHIIM is recognized by the Council for Higher Education Accreditation (CHEA) [One Dupont Circle NW, Suite 510, Washington, DC 20036, 202-955-6126, chea@chea.org]. CHEA is a nationally recognized nongovernmental higher education organization that undertakes recognition of accrediting bodies.
Alfred State is accredited by the Middle States Commission on Higher Education [3624 Market St., Philadelphia, PA 19104, 215-662-5606].
Credentials
Graduates are eligible to take the Certified Coding Specialist (CCA, CCS and CCS-P) and Certified Professional Coder (CPC, CPC-A, CPC-H-A, CPC-H and CPC-P) exams. It is strongly recommended students complete technical elective courses in this area of study and work for a minimum of one year as a coder before taking the coding certification exam(s).
Related Programs
Entrance Requirements/Recommendations
Required: High school biology or equivalent.
Recommended: Keyboarding, MS Office Professional.
Must be able to attend Professional Practice Experience (PPE) courses including 160 hours at a health care facility within reasonable driving/travel distance to their home.
Health Information Technology - AAS Degree