Accreditation/Certification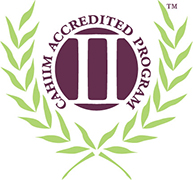 The health information technology program is accredited by the Commission on Accreditation for Health Informatics and Information Management Education (CAHIIM) [233 N. Michigan Ave., 21st Floor, Chicago, IL 60601-5800, 312-233-1100, www.cahiim.org/]. CAHIIM is an independent accrediting organization that enforces quality Accreditation Standards for Health Informatics and Health Information Management (HIM) educational programs through accreditation.
CAHIIM accredits associate and baccalaureate degree programs in health information management and master's degree programs in the health informatics and health information management professions. CAHIIM is recognized by the Council for Higher Education Accreditation (CHEA) [One Dupont Circle NW, Suite 510, Washington, DC 20036, 202-955-6126, chea@chea.org]. CHEA is a nationally recognized nongovernmental higher education organization that undertakes recognition of accrediting bodies.
Alfred State is accredited by the Middle States Commission on Higher Education [3624 Market St., Philadelphia, PA 19104, 215-662-5606].
Entrance Requirements/Recommendations
Required: High school keyboarding, biology, MS Office Professional or equivalent.
Must be able to attend Professional Practice Experience (PPE) courses, including 160 hours at a health care facility within reasonable driving/travel distance to their home.
Students who believe they need a reasonable accommodation to participate this program may contact Melanie Ryan in the Office of Accessibility Services. This office may be contacted by email at DisabilityServices@alfredstate.edu or by phone at 607-587-4506. Please keep in mind that some accommodations may take time to implement, so students seeking accommodations are encouraged to contact OAS as early as possible.
General Notes
Working in the Health Information Management HIM profession requires long periods of standing and/or sitting.
Job duties typically include handling paper documents and use of computer screens.
Near vision reading of paper records or computer screens, including the use of multiple computer applications, is required 95 percent of the time.
Documents are handwritten on paper, and other documents and information used are on computer screens, including scanned documents and images.
The computer screen fonts may be small. The extensive use of a computer keyboard and mouse is required.
HIM professionals spend the greater portion of the work day reading and analyzing both handwritten and computerized documents and use multiple software applications such as the electronic health record.
Individuals should assess their personal limitations and abilities within these working environments, as HIM candidates will be assessed in all of these skill sets during the hiring process.
Health Information Technology - AAS Degree